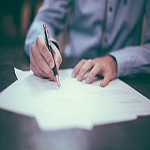 How to start a new page in your life after divorce?
Love can be a romantic fairytale, but more and more international marriages end in divorce. It is a reality of life. However, divorce does not have to be painful. Are you a foreigner? Do you want to file for divorce in Ukraine because your wife is a Ukrainian citizen? Filing for divorce in Ukraine?
I am an experienced lawyer, and I helped many foreign clients to get a divorce from a Ukrainian wife or a husband. Read my advice and learn what documents you need to file.
Why hire a lawyer to handle divorce in Ukraine?
Like everywhere in the world, legal procedures in Ukraine require submitting some supporting documents to court. So, when you file for divorce in Ukraine you need to prepare all required documents to file a claim. Fortunately, the divorce procedure in Ukraine is not complicated and does not call for many documents. You should know that you need to submit copies of original documents and their translations if the originals are in a foreign language.
How your lawyer can file on your behalf?
You need to provide you lawyer with the copies of the following originals and translations to the Ukrainian language:
Copy of your Passport (+ translation) First of all, you need a copy of your passport and the translation of the passport since the case will be review in Ukraine. You can order a translation in your country or you can request a lawyer to find a translator. As for me, I work with several translation agencies and I can translate your passport from any language.
Copy of Legalized Marriage Certificate or Affix Apostille (+ translation) If you registered your marriage abroad, then you must affix an apostille or legalize the marriage certificate. If your state has signed the Hague Convention Abolishing the Requirement for Legalization of Foreign Public Documents dated October 5, 1961, then you just need to affix the apostille. If not, then it is necessary to legalize the documents at the Ministry of Justice or the Ministry of Foreign Affairs. After you affix the apostille or legalize the marriage certificate, you will need to translate it by analogy with your passport.
Copy of birth certificates of common children (+ translation) The same applies to the birth certificate of common children. If you registered children not in Ukraine, then you need an apostille and translation, as described above.
Optional: copy of your wife's/husband's passport. It is optional. You can attach a copy of your wife's passport to all of the above documents if you have such a document. If not, then it is possible to initiate divorce without this document.
Do you need to submit original documents for divorce?
The answer is no, but there are some exceptions. In most cases, I can file for divorce in Ukraine on your behalf right after you send me copies of the documents and hire me as your lawyer in this legal matter. We will sign a contract on the provision of legal assistance. Your divorce case can be filed and reviewed without your presence. If you are not in Ukraine, you should contact me and send me the documents via a secure and reliable shipment company. In order to start a divorce procedure on your behalf, I do not require original documents. In 99.9% of cases, court proceedings can be initiated without providing originals. In some rare cases the original documents can be required by the court, I will contact you and we will figure out the most convenient way to do it.
Find an experience lawyer and start a new life
Once you have all the necessary docs to file for divorce in Ukraine, you will need to sign a contract with your lawyer so he can provide you with legal assistance and represent your interests in court. Such a contract is a necessary condition for the trial to take place without your participation.
I am a licensed lawyer to represent the interests of my clients in all courts of Ukraine and I can file for divorce in Kiev, Odessa, Kharkov or in any city or town of Ukraine. You will be pleasantly surprised when you learn about the cost of my legal services and representations. My short initial consultations are free.
If you have any additional questions about the documents and the divorce in Ukraine, contact me and ask additional questions.
2020-12-29